The 2022 NBA Draft is nearly upon us. The draft is a time for front offices — and NBA mock draft experts — to let their optimism soar, but also one requiring sober second thought.
So, with a lackluster free-agent class on the horizon, reporters are tapping this year's draft to be filled with drama, trades, and perhaps even shocking selections at the top, with NBA Draft odds seeing considerable movement recently.
With just hours until Draft time tonight, here are our best free NBA Draft prop picks and predictions.
NBA Draft prop picks
Picks made on 6/21/2022 at 8:00 p.m. ET.
Click on each pick to jump to the full analysis.
Best NBA bonuses
If you're signing up for a new sportsbook for the NBA Draft, here are two of the best bonuses* available:
A) A.J. Griffin to be selected in the Top 10 BOOSTED to +240 (was +200) at bet365! Claim Now
B) New users can get two risk-free bets up to $2,000 at PointsBet! Claim Now
*Eligible USA locations only
Paolo's Magic?
Sourced reports from multiple outlets indicate Orlando has not decided who it's taking with the first pick. That's certainly unusual, though not unheard of, this late in the process.
Some sportsbooks still have the most likely outcome as Jabari Smith first to the Magic, Chet Holmgren second to the Oklahoma City Thunder, and Paolo Banchero third to the Houston Rockets.
Things may very well turn out that way.
However, there's been significant activity at the top of sportsbooks, including DraftKings, that suggests otherwise. Banchero was as high as +1,800 to go No.1 overall just a few days ago, then on Sunday, he rocketed all the way up to +220, ahead of Chet Holmgren and second only to Jabari Smith. He's since fallen back to third at +280, but this meteoric rise cannot be ignored.
For my money, Banchero is the best offensive prospect in the draft and a better fit as a primary initiator in Orlando than Smith. While getting Banchero at +1,800 would obviously have been a steal, I still like him at nearly 3/1 odds as the top pick.
PICK: Paolo Banchero – No. 1 overall pick (+280 at DraftKings)
Knicks pay a Kings' ransom
After the Top 3, it has been more or less fait accompli for months that Jaden Ivey, the dynamic slashing guard from Purdue, would be the fourth pick. But, when Sacramento drew fourth in the draft lottery, some skepticism emerged.
The Kings already have De'Aaron Fox and Davion Mitchell, and recently traded away Tyrese Haliburton, seemingly settling on their backcourt of the future.
It's unsurprising, then, that the Kings have been involved with trade talks around the No. 4 pick with the New York Knicks, Indiana Pacers, Detroit Pistons, Washington Wizards, and Oklahoma City Thunder reportedly interested.
The bet here is that Ivey finds his way to New York. Like Banchero, odds on Ivey have seen massive movement in the last two days, with Ivey going from a +800 to be New York's first pick all the way to +350, making him the current favorite among potential Knicks selections.
Reporting from Ian Begley notes that the Knicks have the goods to trade for Ivey and have been constructing offers including multiple first round picks to make it happen. That the movement on the board from +800 to +350 prefigured any public reporting of negotiations suggests to me that a deal might be close.
Now, it's possible another team like OKC steps in to beat their offer, but at +350 I still love this prop.
PICK: Jaden Ivey - New York Knicks' first selection (+350 at DraftKings)
Griffin soars into the Top 10
Following AJ Griffin's projected draft position has been enough to make one dizzy. He was once considered co-favorites with Ivey to the No. 4 overall pick, and then for a time after that was a surefire bet to follow him at fifth. Now, seemingly just as many boards have him falling out of the Top 10 entirely.
For those unfamiliar with Griffin's game, he's a 6-foot-6 small forward with a 7-foot wingspan and is arguably the best shooter in the draft. Griffin didn't just knock down 44.7% of his threes on open catch and shoots either, he showed great diversity with his shot, coming off screens, and even some fine work off the bounce.
He's the prototypical big, shooting wing, that in theory, every NBA team wants. But, Griffin has seen his stock steadily drop after a series of lower-body injuries appear to have sapped him of mobility. That lower mobility translated to some rough defensive outings.
That said, Griffin falling outside the Top 10 is just too far. Numerous consensus mock drafts, which compile and average mocks from different sources to project draft positioning, have AJ Griffin most likely to go at nine.
Some team is going to bet that those injuries have been the reason for Griffin's defensive lapses and that when healthy, he'll get to passable on that end.
The Spurs and Wizards both seem like potential landing spots for him, at nine and 10 respectively, and getting +200 on this is too good to pass up.
PICK: AJ Griffin - Top-10 pick (+200 at DraftKings)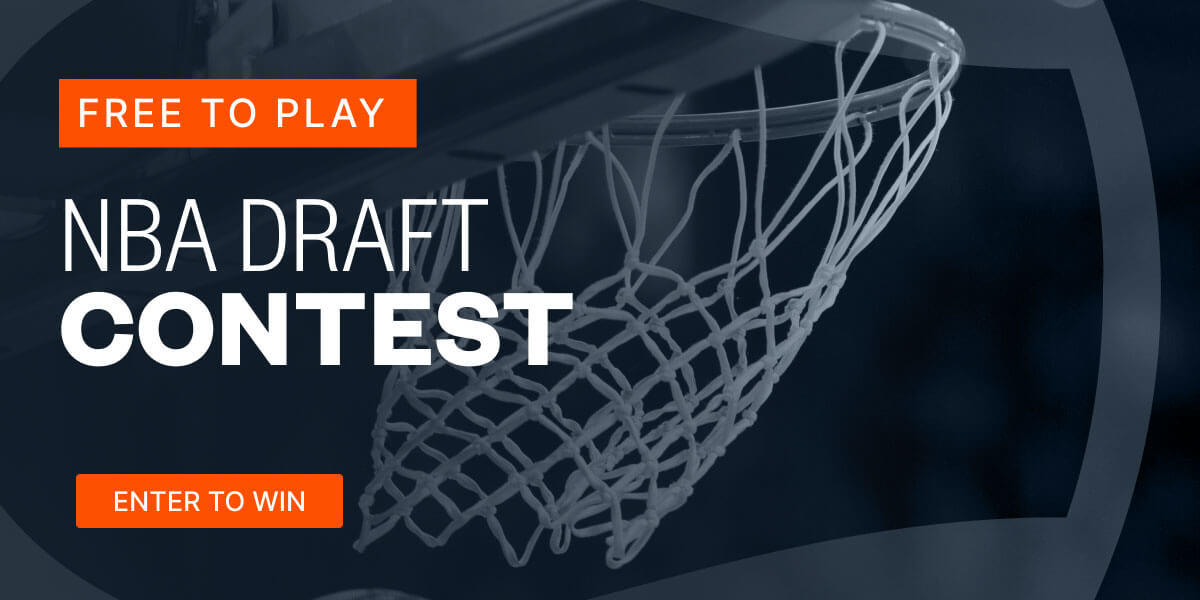 Pages related to this topic